Tipperary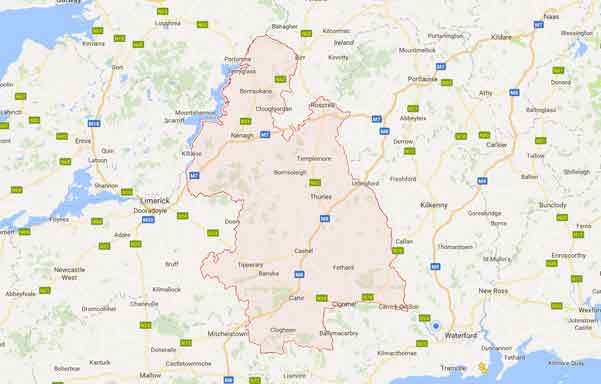 County Tipperary is a land locked county in Ireland situated in the Province of Munster. Its main town is Tipperary town, which was founded after the Norman conquest of Ireland in the 13th century. Other prominent towns in Tipperary are Clonmel, Nenagh, Thurles, Cahir and the famous Cashel.
The Beautiful County of Tipperary is surrounded by some of Ireland's most beautiful mountain ranges, The Galtee Mountains, Arra Hills, The Knockmealdowns and the Silvermine Mountains. Giving Tipperary a completely unique feel within the protection of these beautiful formations.
There are also several Rivers in Tipperary that meander through different parts of this large county. The River Suir connecting Tipperary to the sea via the estuary of the three sisters, the Nore in the south west also connecting to the estuary of the three sisters and in the north west to the largest River in Ireland, The River Shannon.
Tipperary is famously part of an area known as The Golden Vale, it is rich and beautiful agricultural land that also inhabits parts of counties Limerick and Cork.
Throughout this beautiful county you will find charming and enchanting places to stay and visit, with deep connection to sport, music and heritage, you will be spoilt for choice. The towns and villages of Tipperary are famous for their friendly and welcoming personalities. These beautiful locations are full of Bars, Restaurants, Bed and Breakfasts and elegant Country Manors and Hotels. Tipperary has an excellent transport system and is very well signposted.
Tipperary is home to one of Ireland's most famous historic monuments the world famous Rock of Cashel, situated above the charming town of Cashel. Tipperary was granted to the Earls of Ormond in 1328 after the Norman Invasion of Ireland.
There are some major religious sites of importance within Tipperary. Cahir Castle is a gem in County Tipperary as it is one of the best-preserved Castles in Ireland and is completely enchanting. Tipperary is also home to Ormonde Castle the only surviving Tudor Castle in Ireland.
Tipperary was home to some of our most ancient peoples, with evidence of human occupation since the Mesolithic period to modern. Tipperary has held a place of importance through every era of Irish history.