Kilkenny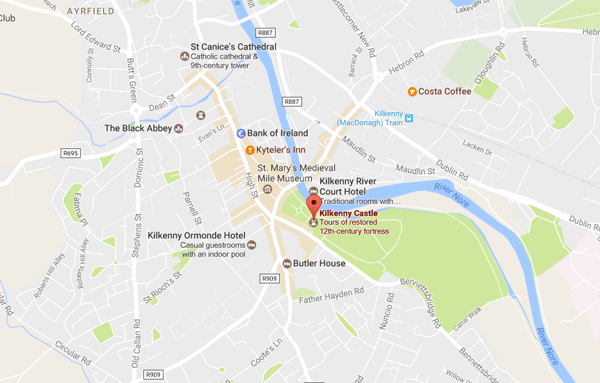 Kilkenny is one of Ireland's more gloriously beautiful counties and is one of Ireland's favourite tourist destinations. It's a country packed full of fun, luxury, culture, art, adventure and history. Situated in the Province of Leinster, in the stunningly beautiful South East of Ireland. Kilkenny is the main town within the county and is one of Irelands most historic and cultural locations.
Kilkenny was built on the banks of the River Nore, during its medieval period in history Kilkenny was a major trading Port and was connected to the sea by the estuary of the Three Sisters. Kilkenny was granted City status in 1609, but has always maintained its beautiful and enchanting medieval feeling, preserving many historic parts of the town for future generations to enjoy.
Kilkenny town is packed full of some of Irelands most beloved pubs, has world-class restaurants and some of the best hotels in the country. Kilkenny is home to some of Irelands most famous festivals such as The Kilkenny Roots Festival, The Cat Laughs comedy festival and the Kilkenny Arts Festival.
Kilkenny is also world famous for its arts and beautiful crafts including jewelry. Kilkenny is called the Marble City and is home to the Medieval Mile.
As you walk though Kilkenny it is impossible not to fall in love with its narrow medieval streets and fabulous shops.  Kilkenny as a town, which started, as an ecclesiastical centre in the 6th century and was place within the Kingdom of Ossory. After the Norman Conquest the stunning Kilkenny Castle and Kilkenny town walls were constructed, William Marshal, The Greatest Knight That Ever Lived was intently in this development. Kilkenny is also infamous for being one of the first places in Europe to carry out Witch Trials.
Kilkenny saw the reigns of monarchs, conquests and rebellions. It is also where the world famous Irish Ale Smithwicks was first made and you can still tour the brewery. County Kilkenny has something for everyone to enjoy. The county is famous for its horse breading and race meetings. There is hunting and fishing, as well as adventure weekends.  The world famous Mount Juliet Hotel is situated in County Kilkenny and its world famous golf course.
Throughout the entire county there are wonderful and magical sites to see such as Jerpoint Abbey, Rothe House, Dunmore Caves, and Woodstock Estate. Kilkenny has something for visitors of all ages, interests and promises to be one of the most memorable locations on your trip to Ireland.